Main content starts here, tab to start navigating
Menus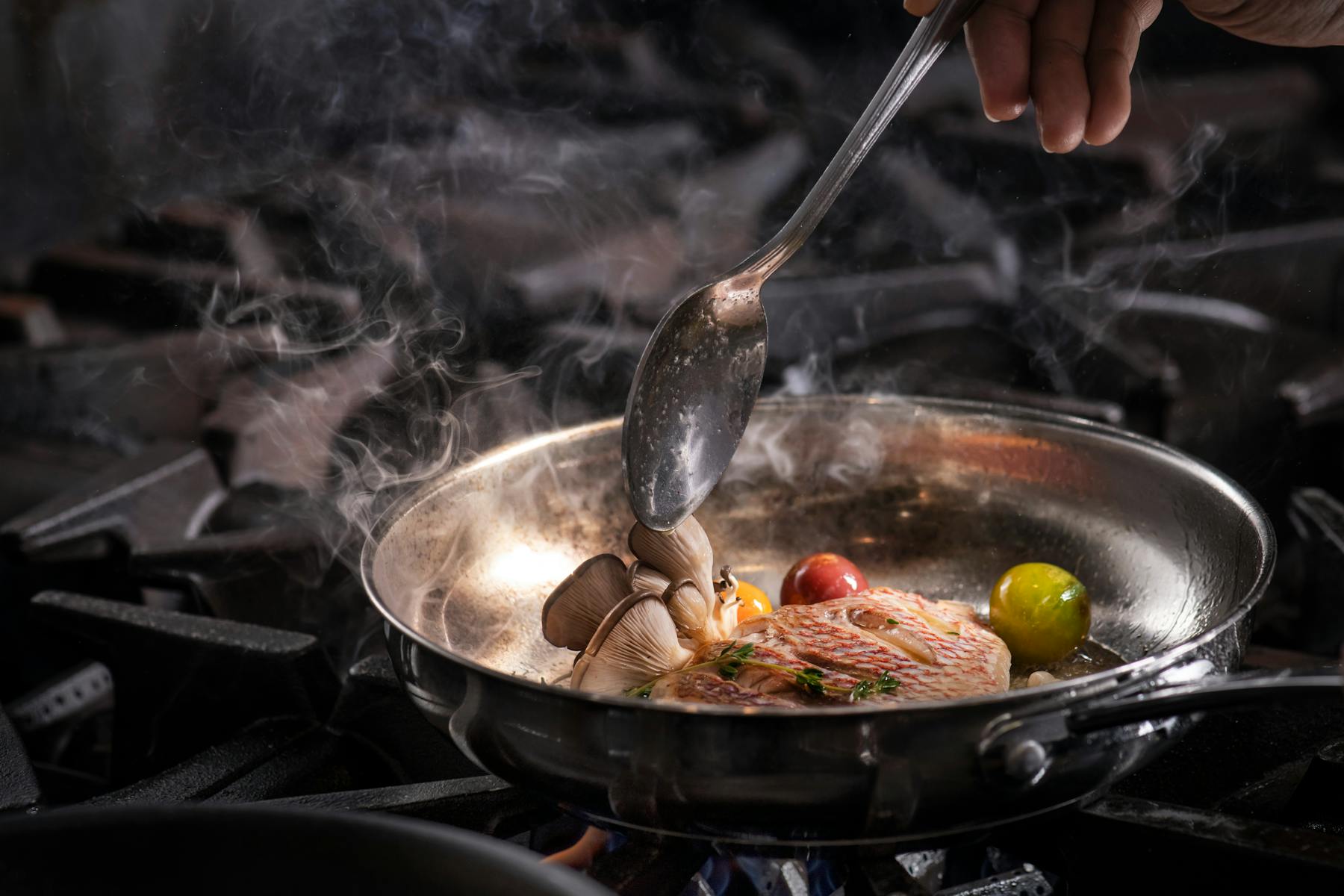 Small Plates & Shares
Rustic Rosemary Olive Bread and Spreads

Smoked Salmon | Herb and Shallot Goat Cheese | Spinach Eggplant Dip

$14

Thai Curry Mussels

Coconut Milk | Kaffir Lime | Chili | Cilantro

$13

Spiced Whole Roasted Cauliflower

Goat Cheese | Shishito Purée | Zante Currants | Hazelnut Pesto (Can Be Prepared Vegan)

$15

gluten free

Shrimp & Mango Ceviche W/ Guacamole

Toasted Cumin Corn Tortillas

$16

Maine Lobster and Blue Crab Rolls

Buttered Potato Rolls | Lime & Mango | Creamy Champagne Basil Dressing

$24

Tuna Tartare*

Avocado | Cucumber | Tobiko | Wonton Crisps

$15

Kung Pao Calamari

Napa Cabbage | Red Pepper | Toasted Peanuts | Basil, Mint & Cilantro Garnish

$13

Maryland Lump 100% Crab Cake

Jicama Slaw | Miso Ginger Aioli

$15

gluten free
Fresh & Bright
Sliced Sirloin Caprese*

Ciliegine Mozzarella & Heirloom Tomato Salad|basil Chimichurri

$24

gluten free

Roasted Red & Golden Beet

Mixed Greens | Citrus| Walnut | Pistachio Goat Cheese | Walnut Vinaigrette ( Can Be Prepared Vegan)

$10

gluten free

Lobster, Shrimp & Crab Cobb Salad

Avocado | Bacon | Egg | Tomato | Meyer Lemon-Tarragon Vinaigrette

$24

gluten free

Local Kale 'Caesar'

Avocado | Pepita | Nutritional Yeast

gluten free, vegan

Shaved Brussels Sprouts Butter Lettuce

Candied Pecans | Shallots | Parmesan | Mustard Lemon Vinaigrette (Can Be Prepared Vegan)

$10

gluten free

Add Free Range Chicken Breast $8

Faroe Islands Salmon* $9

Key West Shrimp $9
Off Shore
Key West Shrimp & Scallop*

Lemon Risotto | Local Greens Lemon Beurre Blanc | Tomato Confit

$31

gluten free

Ahi Tuna Mignon*

Key West Shrimp Risotto | Yellow Tomato Lobster Beurre Blanc | Baby Bok Choy | Roasted Tomato

$32

gluten free

Faroe Islands Salmon*

Pepper Crust | Smashed Fingerlings | Grilled Vegetables | Pomegranate Reduction | Lemon Beurre Blanc

$26

Pan Seared Red Snapper

WILTED SPINACH | ARANCINI CAKE | CAPONATA | CITRUS BUTTER

$31

gluten free

Wood Grilled Branzino

Roasted Corn-Goat Cheese Polenta | Shaved Fennel Citrus Salad | Basil Butter

$28

gluten free

Miso Marinated Black Grouper

Crystalized Ginger Basil Sticky Rice Cake | Sake-Braised | Shiitake Mushrooms | Miso Coconut Vin Blanc

gluten free

MKT

Wild Caught Rock Shrimp Tagliatelle Pasta

Silky Three Lemon Mascarpone Sauce | Petite Heirloom Tomatoes | Sauteed Asparagus

$32

Chermoula-Grilled Atlantic Swordfish Steak*

Fennel & Gigante Bean Pickled Salad | Almond Romesco Sauce | Pan-Seared Belgian Endives

$27

gluten free
On Shore
Shore Burger*

House Ground Daily | Tillamook Cheddar | Bacon Jam | Lettuce | Tomato | Onion | Truffle Fries

$16

Free Range Fried Chicken

Tabasco-Honey Marinated | Mac & Cheese | Fresh Coleslaw | Tabasco-Honey Sauce

$19

Eggplant Confit

Roasted Tomatoes | Raisin Garbanzo Couscous-Stuffed Sweet Pepper | Romesco Sauce | Goat Cheese | Shishito Drizzle (Can Be Prepared Vegan)

$22

Diner Meatloaf

Green Bean & Carrot | Olive Oil Mashed Potato Forest Mushroom Gravy

$19

St. Louis 'Jenga' Ribs

Mongolian Glaze | Chopped Chinese Salad Crushed Peanuts

$26

Oak Grilled Aged Ribeye*

Olive Oil Mashed Potato | Roasted Mushrooms | Spice Shop Butter

$39

gluten free
Truffle Fries

Parmesan | Chives

$7

Seasonal Soup

Ask Your Server for Today's Selection

MKT

Grilled Asparagus

Parmesan | Lemon Butter

$8

Jones Farm Smashed Fingerlings

Rosemary Salt | Sriracha Aioli

$6
We are concerned for your well being. If you have allergies, please alert us. Not all ingredients are listed.
The beginning of any great recipe is great ingredients. We take special care to find the best ingredients from the best people, sourced responsibly & locally when possible.
*Consuming raw or undercooked meats, poultry, seafood, shellfish or eggs may increase your risk of foodborne illness, especially if you have medical conditions.
Craft Cocktails
Shore Cocktail

Broker's Gin I Elderflower I Cucumber | Mint

$10

Ruby Red

360 Vodka | Campari | Grapefruit

$10

Original Mai Tai

Ron Matusalem Rum | Orgeat I Pineapple | Orange Curacao I Dark Rum Floater

$10

Barrel Aged Cocktail

Old Forester Bourbon | Grilled Peach | Vanilla

$12

Bee Keeper

Tea Infused Hudson Baby Bourbon | Apricot Liqueur I Lemon | Honey

$14

The Thai One

Martin Miller's Gin I Cilantro | Bird's Eye Chili-Lemongrass Syrup

$10

Pear Old Fashioned

Bulleit Rye I Pear Liqueur I Bitters

$12

The Manhattan

High West Double Rye Whiskey | Dolin Chambery | Grand Marnier

$15

Sangria

Pineapple Juice | Pear & Orange Liqueur | Rum I Spanish Red or White Wine

$9

Blood Orange Margarita

Eljimado Rl Solerno Liqueur | Blood Orange Juice | Agave I Sugar Rim

$10
Whites
Sparkling & Champagne

Prosecco, LaMarca, Italy

$9

$35

Veuve Clicquot Brut Yellow Label

$97

Moet & Chandon Rosé Imperial, 187ml

$20

Chardonnay

Simple Life, Napa

$8

$31

La Crema, Monterey

$11

$43

Rombauer, Carneros

$68

Mer Soleil, Monterey

$48

Mathieu Paquet, Pouilly-Fuisse, Bourgogne

$54

Paul Hobbs, Ellen Lane Estate, Sonoma County

$120

Ram's Gate, 14', Hyde Vineyard, Carneros

$125

Far Niente, Napa

$128

Rosé

L'Oratoire, Rosé, Cotes Du Provence

$8.50

$33

Hogwash, Rosé, St. Helena

$10

$40

More White Wine

La Caplana, Gavi di Gavi, Piedmont, Italy

$9

$35

P.J. Valckenberg, Riesling, Germany

$9

$35
Reds
Pinot Noir

Lola, North Coast

$10

$39

Bishops Peak, San Luis Obispo

$13

$51

Melville, Santa Rita Hills

$59

Flowers, Sonoma Coast

$72

Gevrey-Chambertin, Les Seuvrees

$90

Richard Berridge, 09', Sonoma Valley

$80

Richard Berridge, 07', Sonoma Valley

$130

Malbec

Killka, Mendoza, Argentina

$9

$35

Catena, Mendoza, Argentina

$51

Merlot

L'Ecole No. 41, Columbia Valley

$45

Cabernet

McManis, Lodi

$9

$35

Aviary, Napa

$12

$47

BonAnno, Napa Valley

$14

$55

Faust, Napa Valley

$79

Nicholson Jones, Napa Valley

$100

Caymus Vineyards, Napa Valley

$135

Davis Estate, Napa Valley

$105

Tamber Bey, Oakville Estate, 14', Napa

$210

Jordan, Alexander Valley

$122

Venge Silencieux, 15', Napa Valley

$105

More Red Wine

Sexual Chocolate, Syrah, California

$56

Marietta, Zin Blend, Russian River

$51

Limerick Lane, Zinfandel, Sonoma

$12

$47

Old Ghost, Zinfandel. Lodi

$88

Nuits-St-Georges, Les Charmois Red Burgundy, 15', Cote-d'Or

$125

II Palazzone, Brunello Di Montalcino Sangiovese, Riserva, 10', Tuscany

$200

1.5L $410
Drafts
V-Twin Amber Ale

Motorworks - Bradenton, FL

$6.50

Pirata Pilsner

Darwin - Bradenton, FL

$6.50

Vanilla Porter

Breckenridge - Littleton, CO

$7

Golden Monkey Tripel

Victory - Parkesburg, PA

$7.50

Lagunitas IPA

Lagunitas - Petaluma, CA

$7

Passion Wheat Ale

J Dub's - Sarasota, FL

$6.50
Ask Your Server About Our Selection of Bottled Beers